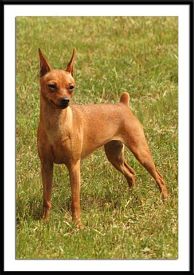 Welcome to Summit Miniature Pinschers!
We are located in beautiful Calgary, Alberta, Canada, in the
heart of the West at the Foothills of the Rocky Mountains.
My name is Kathy. Along with husband Bernd and son Jeffrey,
we are collectively owned by a small and entertaining crew of
Miniature Pinschers. They are the joy of our household.
We were first captivated by the spirit and presence of these "big
dogs in a small package" after seeing them at our local dog show.
From our first pet Min Pin, up to the present day, our merry group has expanded to include our Canadian and American Champion
show dogs, and the fun at our house has multiplied accordingly!
All of our dogs are registered with the Canadian Kennel Club,
and most are also registered with the American Kennel Club as
well. We show our dogs in CKC (Canada) and AKC (American)
Conformation, and train them in Rally Obedience and Agility.